Ombudsman's Biography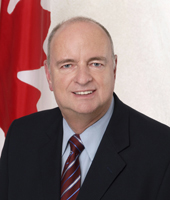 Chief Warrant Officer Guy Parent (retired) was appointed as the second Veterans Ombudsman in November 2010, for a five-year term, which was renewed for an additional three years in 2015. With this latest appointment, he now has been serving Canadians in many military and civil functions for over 50 years.
Following the completion of high school in 1964, he joined the Canadian Forces. He was trained as a Search and Rescue Technician and graduated in 1972 with qualification as Paramedic, Master Parachutist, Master Diver, Mountain Climbing Instructor and Survival Instructor. He went on to serve as a Search and Rescue Technician for the next three decades.
In 1989, he assumed the function of Base Chief Warrant Officer in Summerside, P.E.I. where he was in charge of personnel relations between the base and Air Force headquarters. As part of this assignment, he conducted administrative and internal investigations on behalf of the Base Commander.
Appointed as Chief Warrant Officer of Air Command in 1991, he advised on personnel and quality of life issues. Through frequent public visits to air units, he assessed the impact of policies on members and drafted recommendations to the Commander.
He was appointed again in 1995 as Chief Warrant Officer of the Canadian Forces, which is the highest appointment for a non-commissioned member. In that capacity, he represented 47,000 non-commissioned officers and privates who are, or will soon be, the Veterans of today. At the request of the Governor General, Chief Warrant Officer Parent also served as a member of the Armed Forces Council which provided him with an opportunity to influence doctrine and policy at the strategic level.
In 1999, he was posted to Egypt to serve as Force Sergeant Major of a multi-national force defending the Sinai in accordance with the Camp David Accord. There, he defused conflict situations between military personnel of 14 different countries through mediation and dispute resolution.
After retiring from the Canadian Forces in 2001, Chief Warrant Officer Parent joined the office of the National Defence and Canadian Forces Ombudsman where he assumed increasing responsibilities, first as an investigator and later as Director of Investigations and Director of the Ombudsman Special Response Team.
His vast experience and attention to detail led him to be drafted by the Office of the Veterans Ombudsman in 2008, where he served as Director of Research and Investigations until his appointment as Ombudsman. His experience with Veterans Affairs Canada has allowed him to gain significant knowledge about programs, policies, and procedures related to Veterans and to appreciate the importance of the Veterans Ombudsman mandate.
Chief Warrant Officer Parent is fluent in both official languages and has traveled extensively to Europe, Africa, the Middle East and South America on official Canadian Forces and National Defence business.
He now resides in Gatineau with his wife. They have three sons, three daughters-in-law and seven grandchildren.
Date modified: