Learning and Exchanging Through Outreach
Ottawa - May 16, 2013
Meeting with Veterans of the Canadian Forces and the RCMP, their families and community members is a great way for me to hear firsthand about the issues directly affecting our Veterans. It is important for my team and I to continue to hear about the issues Veterans are facing in order to bring about positive change. This is something I convey to Veterans and community members during outreach tours such as the one I did in Newfoundland in April.
While in Newfoundland, I visited Corner Brook, Gander, Conception Bay South and St. John's. In Corner Brook, some Veterans voiced their concerns about the effect the upcoming closure of the Veterans Affairs Canada office would have on them. I understand that hearing about office closures can be worrisome, and strongly invite Veterans and their families who feel that they are being treated unfairly by the Department as a result of an office closure to contact us.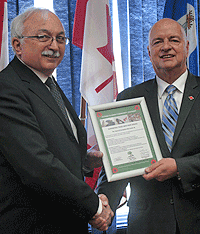 A highlight of this outreach tour was visiting Conception Bay South, the first Canadian municipality to have a Veteran and Family Community Covenant. I was impressed by Mayor Woodrow French's commitment to support and involve Veterans and their families during community events and delighted when he presented me with a copy of the Veteran and Family Community Covenant. During my outreach tours I meet with local elected officials to promote the contribution of all Veterans, healthy and disabled, as real assets to their communities. It is always interesting to learn about local initiatives that recognize and support Veterans and their families.
While in St. John's, we also visited with the local RCMP, Veterans' Association. In line with our theme of One Veteran, we are committed to ensuring that members and former members of the RCMP know that the Veterans Bill of Rights applies to all clients of Veterans Affairs Canada, including them. I had the opportunity discuss this at the monthly meeting of the RCMP Veterans' Association's Ottawa Division this week and will attend the New Brunswick Division's spring meeting in Miramichi.
As spring comes to an end, we are finalizing plans for my upcoming outreach. I will be hosting a town hall in Miramichi on May 24 as well as one in Ottawa and another in the North Shore area of Montreal at the end of June. Check my calendar over the coming weeks for all the details.
Guy
Blog Comments
Please add your comment below. Remember if your submission is a complaint about your circumstances please use the Submit a Complaint section.
Important Notice
View Important Notice Details

By participating, you are taking personal responsibility for your comments, your username and any information provided. To protect your own privacy and the privacy of others, comments containing personal information will not be published. "Personal information" means information about an identifiable individual that is recorded in any form. It may include, but is not limited to: name, address, email address, race, ethnic origin, medical and employment history, and identifying numbers. Note as well that the views or opinions expressed about another individual are considered personal information about and belonging to that individual.
Privacy Notice
View Privacy Notice Details

Provision of the information requested on this form is voluntary. It is collected under the authority of the Veterans Ombudsman Order in Council P.C. 2007-530. The information is collected for the purpose of providing an opportunity for the public to provide input on issues identified in the Veterans Ombudsman's blog. Personal information that you provide is protected under the provisions of the Privacy Act.

The Act provides you with the right to access and request correction of your personal information.

Your personal information will be stored in Personal Information Bank number VAC PPU 210.

If you have any questions, contact our Access to Information and Privacy Coordinator.
Comments
There are currently no comments for this post.
Date modified: