Korean War Veterans Day
Ottawa – July 26, 2013
This is the year of the Korean War Veteran and tomorrow – July 27 – will be the first time that Korean War Veterans Day will be observed across Canada.
More than 26,000 Canadian men and women in uniform came to the aid of South Koreans during the Korean War (June 25, 1950 – July 27, 1953). Of those who served, 516 made the supreme sacrifice and 1,558 were wounded in service to defend the values of peace and freedom on the Korean peninsula so that the Republic of Korea could survive and prosper.
In April, I had the honour of accompanying 36 Canadian Veterans of the Korean War who returned to the Korean battlefields on which they fought to mark the 60th anniversary of the Armistice. The Veterans were invited by the Republic of Korea to show its appreciation for helping to liberate the country.
I felt privileged to stand beside our Veterans and listen to their recollections of battle, and it made me understand what they mean when they say, "we'll never forget those hills". The importance of Canada's involvement in the Korean War cannot be emphasized enough. We must never forget the commitment that these men and women made to restore the peace.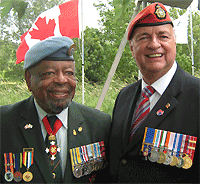 This was brought home to me again a week ago today when I had the honour of participating in an event for Gus Este, a local Ottawa-area Veteran of the Korean War. Brookside Park, located in Barrhaven (a suburb of Ottawa), was renamed in his honour.

Gus was born in Montreal in 1931. He enrolled in the army in 1950 as a medic and had a career that spanned 33 years. He retired in 1987 and has been very active in his community ever since. His involvement in local organizations includes the Ontario Lung Association, the Nepean Public Library board, the Mayor of Nepean's Task Force on Visible Minorities, the Korea Veterans Association of Canada, and the Royal Canadian Legion.
Gus is so much a part of local life that Ottawa's Mayor Jim Watson said that he could not remember ever coming to an event in the area without Gus being front and centre, helping to organize it and often representing one of the many organizations of which he is a part.
So tomorrow, I encourage you to participate in one of the events being held in honour of Korean War Veterans Day. If you know a Korean War Veteran, do take the time to have a chat and thank them for their brave fight to uphold freedom, democracy and the rule of law.
Guy
Blog Comments
Please add your comment below. Remember if your submission is a complaint about your circumstances please use the Submit a Complaint section.
Important Notice
View Important Notice Details

By participating, you are taking personal responsibility for your comments, your username and any information provided. To protect your own privacy and the privacy of others, comments containing personal information will not be published. "Personal information" means information about an identifiable individual that is recorded in any form. It may include, but is not limited to: name, address, email address, race, ethnic origin, medical and employment history, and identifying numbers. Note as well that the views or opinions expressed about another individual are considered personal information about and belonging to that individual.
Privacy Notice
View Privacy Notice Details

Provision of the information requested on this form is voluntary. It is collected under the authority of the Veterans Ombudsman Order in Council P.C. 2007-530. The information is collected for the purpose of providing an opportunity for the public to provide input on issues identified in the Veterans Ombudsman's blog. Personal information that you provide is protected under the provisions of the Privacy Act.

The Act provides you with the right to access and request correction of your personal information.

Your personal information will be stored in Personal Information Bank number VAC PPU 210.

If you have any questions, contact our Access to Information and Privacy Coordinator.
Comments
Papy said:
Pourquoi une journée pour se souvenir de ceux et celles qui ont donné leurs 100% pour le Canada. je serais d'avis pour tout le mois de Novembre pour tous les sacrifices qu.ils ont doné pour représenter leur pays....le Canada
November 11, 2013 5:50 PM
Date modified: