An Update on My Activities
Ottawa - June 23, 2014
I returned to Canada on June 9, 2014 after participating with Canadian Veterans in the commemoration of the 70th Anniversary of D-Day and the Battle of Normandy. It was an awesome experience. I will never forget how moving it was to walk on Juno Beach with our Veterans and listen as they recounted their experiences of storming the beach so many years ago. I was very impressed with all of the Veterans who attended the many commemoration activities and I brought home with me many good memories.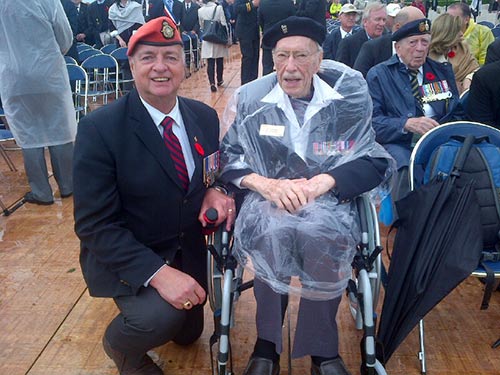 In my last blog I introduced you to LCol. Ernest Côté, the oldest Veteran among us at 101 years. As Assistant Adjudant and Quartermaster-General of the 3rd Canadian Infantry Division, he participated in the planning of the logistics for the Division's operations in Normandy, where he landed on June 6, 1944. Years later, in 1968, he became Deputy Minister of Veterans Affairs. His energy was boundless and his good humour, cheerful presence and sharp memory were an inspiration to all.
In our final days in Normandy, we visited the Bretteville-sur-Laize Canadian War Cemetery where close to 3,000 Canadians are buried, all casualties of the Battle of Normandy. We also visited the Canadian Memorial Garden in Caen for a short ceremony. At the centre of the town there is a monument to commemorate the site where its citizens first encountered their Canadian liberators. As we paid our respects, a group of young local children sang O Canada accompanied by our bugler and piper playing from a balcony overlooking the site. Our last official ceremony was at Abbey of Saint-Germain-des-Prés. This was one of the most emotional events in which we participated. It honoured 20 young Canadians who, as prisoners of war, were interrogated and then executed at the site. As their names were read out one-by-one, I reflected on the intolerable cost of war, especially to the young. The trip may be over now, but the intensity of visiting the actual sites where our Canadian heroes' blood was spilled will be in my mind and in my heart forever. I will never forget them and what they did for our country.
Since my return, I attended the 45th Dominion Convention of the Royal Canadian Legion in Edmonton (June 14-18). I was very pleased that the Legion decided to change its definition of a Veteran to include RCMP officers. The new definition will also include peace officers who served in special duty areas, such as Ontario Provincial Police officers who worked in Haiti or officers on United Nations missions such as in Bosnia. I was also pleased that the Honourable Julian Fantino, Minister of Veterans Affairs, announced that the Government of Canada will double funding to the Legion from $120,000 to $240,000 for its outreach and visitation initiative to Veterans in long-term care facilities across Canada. It will also extend its contract with the Legion for an additional year, allowing the Legion to increase the number of its visits to Veterans in long-term care facilities from 4,000 to 8,000 per year.
Last Friday June 20, I participated in the Ceremony of Remembrance at the National Aboriginal Veterans Monument here in Ottawa. It was a solemn ceremony in remembrance of the thousands who participated in the First and Second World Wars and the Korean War, in order to keep Canada safe and free. Their bravery and sacrifice must never be forgotten.
I am currently working with my team to prepare our analysis of the recently released report on the New Veterans Charter by the House of Commons Standing Committee on Veterans Affairs. You will be hearing more about this in coming days.
Cheers for now and stay tuned!
Guy Parent
Blog Comments
Please add your comment below. Remember if your submission is a complaint about your circumstances please use the Submit a Complaint section.
Important Notice
View Important Notice Details

By participating, you are taking personal responsibility for your comments, your username and any information provided. To protect your own privacy and the privacy of others, comments containing personal information will not be published. "Personal information" means information about an identifiable individual that is recorded in any form. It may include, but is not limited to: name, address, email address, race, ethnic origin, medical and employment history, and identifying numbers. Note as well that the views or opinions expressed about another individual are considered personal information about and belonging to that individual.
Privacy Notice
View Privacy Notice Details

Provision of the information requested on this form is voluntary. It is collected under the authority of the Veterans Ombudsman Order in Council P.C. 2007-530. The information is collected for the purpose of providing an opportunity for the public to provide input on issues identified in the Veterans Ombudsman's blog. Personal information that you provide is protected under the provisions of the Privacy Act.

The Act provides you with the right to access and request correction of your personal information.

Your personal information will be stored in Personal Information Bank number VAC PPU 210.

If you have any questions, contact our Access to Information and Privacy Coordinator.
Comments
There are currently no comments for this post.
Date modified: