Remembering our Veterans' Contributions from 100 years ago
Ottawa, ON – August 6, 2014
When I opened the Ottawa Citizen yesterday morning, I saw on page A6 the headline Canadian Soldiers: Britain's Shock Army, I thought immediately of the incredible story that led up to that name.
It was just a hundred years ago last Monday (August 4) that Canada entered the First World War when Great Britain declared war on Germany. We were a young nation – only 47 years old since our Confederation in 1867 – yet we answered the call in unprecedented numbers.
From a population of less than eight million in the then-Dominions of Canada and Newfoundland, 620,000 served. Out of those, 60,000 or 10 percent were killed and another 172,000 were injured. To put those numbers in perspective today, Tim Cook, the military historian and Director of Research at the Canadian War Museum said in a recent interview that with our current population of around 34 million, we would be talking about 250,000 dead and 600,000 wounded.
In less than two months (October 1), the Canadian Division sailed for Great Britain and a month later (November 1) we experienced our first casualties. Our soldiers distinguished themselves in many battles and after the Battle of the Somme in 1916, their reputation was set in stone as a formidable assault force.
In fact, British Prime Minister Lloyd George wrote, "The Canadians played a part of such distinction that thenceforward they were marked out as shock troops; for the remainder of the war they were brought along to head the assault in one great battle after another. Whenever the Germans found the Canadian Corps coming into the line they prepared for the worst."
Their achievements helped forge peace and pushed Canada forward to become the independent country that it is today. For that, we must all eternally hold the legacy of our World War One warriors in the highest regard. In the next four years, we will often be walking in their footsteps as we commemorate each of their hard fought battles in a series of blogs.
I salute the sacrifices of the Veterans of the First World War, their families, and every Veteran since who has given so much so we can live in peace.
Guy Parent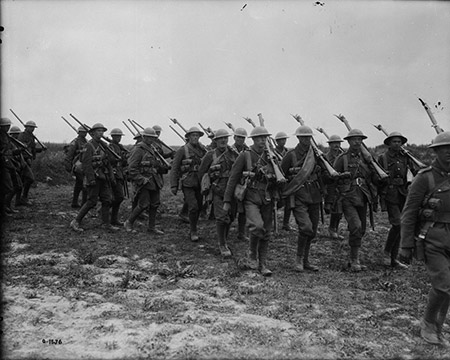 Blog Comments
Please add your comment below. Remember if your submission is a complaint about your circumstances please use the Submit a Complaint section.
Important Notice
View Important Notice Details

By participating, you are taking personal responsibility for your comments, your username and any information provided. To protect your own privacy and the privacy of others, comments containing personal information will not be published. "Personal information" means information about an identifiable individual that is recorded in any form. It may include, but is not limited to: name, address, email address, race, ethnic origin, medical and employment history, and identifying numbers. Note as well that the views or opinions expressed about another individual are considered personal information about and belonging to that individual.
Privacy Notice
View Privacy Notice Details

Provision of the information requested on this form is voluntary. It is collected under the authority of the Veterans Ombudsman Order in Council P.C. 2007-530. The information is collected for the purpose of providing an opportunity for the public to provide input on issues identified in the Veterans Ombudsman's blog. Personal information that you provide is protected under the provisions of the Privacy Act.

The Act provides you with the right to access and request correction of your personal information.

Your personal information will be stored in Personal Information Bank number VAC PPU 210.

If you have any questions, contact our Access to Information and Privacy Coordinator.
Comments
There are currently no comments for this post.
Date modified: