Myth Busting Veterans Access to New Veterans Charter Lifetime Monthly Benefits
Ottawa, ON – August 18, 2014
"Many severely disabled Veterans cannot access lifetime monthly allowances designed to compensate for their loss of earning capacity."
Q: True or False?
A: True
Before we get into this discussion, let's put into context how many Veterans need to receive lifetime monthly benefits. On average, 5,000-6,000 Regular Force members release annually from the Canadian Armed Forces. Of these, 20 to 25 percent are released medically. So, it's important to remember that 75-80 percent of Canadian Armed Forces members release with minimal support required and successfully transition to civilian life.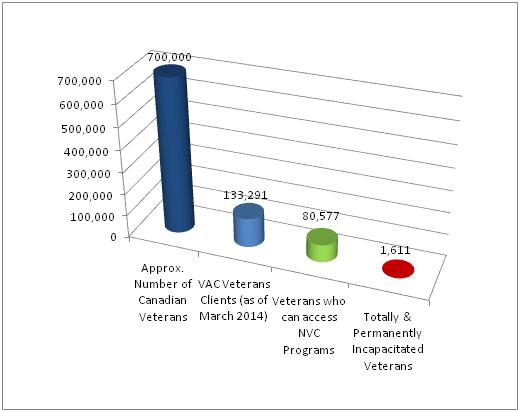 Approximate number of Canadian Veterans - 700,000
Veterans Affairs Canada Veteran Clients as of March 2014 - 133,291
Veterans who can access the New Veterans Charter Programs - 80,577
Totally and Permanently Incapacitated Veterans - 1,611
My focus here is on the small group of Veterans in this graph who are Totally and Permanently Incapacitated (TPI). They make up only two percent (2%) of all Veterans who can access New Veterans Charter programs, and they require monthly financial support to offset the fact that their service-related medical conditions have deprived them of their ability to provide for themselves now and in the future.
There are two key New Veterans Charter lifetime benefits that specifically target the negative financial impact of becoming an injured or ill Veteran are: the Permanent Impairment Allowance (PIA) and the Permanent Impairment Allowance Supplement (PIAS).
PIA is a financial support benefit provided under the Canadian Forces Members and Veterans Re-establishment and Compensation Act (commonly referred to as the New Veterans Charter). It is awarded in three grade levels. Its objective is to compensate for loss of earning capacity; specifically, for the effects of a permanent and severe impairment on a Veteran's employment and career progression opportunities.
PIAS provides additional financial support to those Veterans who are in receipt of the PIA and are no longer able to participate in any suitable and gainful employment.
Prior to the October 3, 2011 enactment of the Enhanced New Veterans Charter Act, 54 Veterans were in receipt of the Permanent Impairment Allowance. As of March 2014, there were 1,647 recipients, making it clear that the Enhanced New Veterans Charter Act has had a positive effect on improving access to the Permanent Impairment Allowance. However, two issues remain to be addressed:
Almost 50 percent of Veterans, who Veterans Affairs Canada determines to be totally and permanently incapacitated, are not receiving the Permanent Impairment Allowance (PIA) and/or the Permanent Impairment Allowance Supplement (PIAS). The reasons for this situation are not entirely clear because Veterans Affairs Canada does not track why totally and permanently incapacitated Veterans are not receiving the benefits. Approximately 100 of these Veterans are in receipt of the Exceptional Incapacity Allowance (EIA) provided under the Pension Act and, therefore, are not eligible for the PIA and the PIAS. However, we also know that some Veterans may not be eligible for these benefits because their conditions do not satisfy the current definition of permanent and severe impairment.
Of the Veterans who are receiving the Permanent Impairment Allowance (PIA), 90 percent are awarded the lowest grade level, even though they may suffer from a permanent and severe impairment that has a profound impact on their employment and career progression opportunities. A recent chart published by Veterans Affairs Canada showing a comparison of supports available to seriously injured Veterans seems to indicate that all seriously injured Veterans could receive this benefit and at the highest rate. However, the statistics demonstrate that in reality this is not happening.
So, it is fair to say that many severely disabled Veterans cannot access lifetime monthly allowances designed to compensate for their loss of earning capacity. It is also fair to say that there are issues with the PIA and the PIAS and it is my intention to work with the Department to solve them.
Tomorrow, I will be releasing a report that details these and other issues. The report will recommend changes to improve access to these benefits for Veterans who suffer from a service-related permanent and severe impairment that impacts their employment and career progression opportunities.
I believe that the government can fix the problems with these allowances without breaking the bank for the small percentage of Veterans who need this support. These Veterans deserve no less.
Stay tuned for tomorrow's release.
Guy
Blog Comments
Please add your comment below. Remember if your submission is a complaint about your circumstances please use the Submit a Complaint section.
Important Notice
View Important Notice Details

By participating, you are taking personal responsibility for your comments, your username and any information provided. To protect your own privacy and the privacy of others, comments containing personal information will not be published. "Personal information" means information about an identifiable individual that is recorded in any form. It may include, but is not limited to: name, address, email address, race, ethnic origin, medical and employment history, and identifying numbers. Note as well that the views or opinions expressed about another individual are considered personal information about and belonging to that individual.
Privacy Notice
View Privacy Notice Details

Provision of the information requested on this form is voluntary. It is collected under the authority of the Veterans Ombudsman Order in Council P.C. 2007-530. The information is collected for the purpose of providing an opportunity for the public to provide input on issues identified in the Veterans Ombudsman's blog. Personal information that you provide is protected under the provisions of the Privacy Act.

The Act provides you with the right to access and request correction of your personal information.

Your personal information will be stored in Personal Information Bank number VAC PPU 210.

If you have any questions, contact our Access to Information and Privacy Coordinator.
Comments
Gerry said:
The Policy Advisor Group in Oct 2016 said there is disparity between the NVC and the old Pension Act also recommended all Veteran be treated with fairness and by One Veteran One Standard I been fighting since 1997 for help with hearing loss and appeal after appeal had no success for any support I had a ear drum rebuilt in 1974 in my service time and the other done later on in life I was Infantry regular force. I lost a job because of my hearing I have been treated badly through out my appeals made to feel like a begger for something I dont deserve then along comes the NVC in 2006 and people that never complained about their hearing before in there lives are handed out tens of thousands and in some cases with only 3 or 4 months reserve service or trades where no noise duress was present like a clerk in an office in some cases 78 to 80 year old men drivers or other trades working for one summer in militia decades ago getting 89 thousand or more with an option for more on a reassesment in two years just because they showed hearing loss on a audiogram yet Im held to a different accounting the new NVC is not doing much for the veterans that been fighting for equality and justice for years..Im getting a little over one hundred dollars a month under the Pension Act with 1/5 entitlement should of be 5/5 I was awarded this after I applied AGAIN in 2006 when the new charter came into place but I was held to the pension act which is OK but never the less they gave me a 1/5 entitlement which means my hearing loss had little to do with my service why if the DVA and Appeal boards were correct in denying me anything for over 23 yrs finally gave me a TOKEN 1/5 entitlement I have no choice to challenge this as One Veteran One Standard did not work for me You should help me I request access to the total number of NVC Claims on Hearing Loss and the total amounts given out under the NVC for hearing loss in Nova Scotia under the NVC this will show I was DISCRIMINATED against under the Old Pension act or is this a request we have to make through the court system
March 5, 2017 9:49 AM
Office of the Veterans Ombudsman
Gerry, I would advise that you contact our Office if you have not already done so. http://ombudsman-veterans.gc.ca/eng/contact
March 6, 2017 9:26 AM
lise said:
Thank you for fighting for my husband's disability
May 14, 2015 4:45 AM
Sara said:
Thank you Sir, Thanks for supports the veterans I medically release with 7 years service , no pension and I don't know how to leave with low income,
August 20, 2014 9:33 PM
Office of the Veterans Ombudsman
Thank you for your comment Sara. You should contact our office at 1-811-330-4343. We will look into your situation and do our best to assist you in any way we can. Until then!
August 21, 2014 9:59 AM
Phil said:
I am one of the victims of the lifetime pension chagea that took place in 2006. How does the lump sum diability payment award post 2006 impact on these costs.
August 19, 2014 8:29 AM
Office of the Veterans Ombudsman
Thank you for your question Phil. We are currently looking into this and we will publish a response as soon as possible. Regards
August 21, 2014 10:54 AM
Trackjam said:
Do we have any idea what the annual increase would need to be in order to resolve this issue?
August 18, 2014 6:35 PM
Office of the Veterans Ombudsman
Thank you for your question Trackjam. We are currently looking into this one as well but it requires a little research first. We will publish the response as soon as possible. Regards
August 21, 2014 10:59 AM
Vet Advocate said:
Thank you for coming out and trying to show how wrong the present government is in trying to put a bad light on us Veterans. These numbers you have are more like what is the truth, not what was previously published by the Min of Vet Affairs.
August 18, 2014 5:42 PM
Ron Cundell said:
So your last blog you basically explained the NVC and all the financial benefits for injured veterans. This blog shows just how many severely injured veterans actually receive the financial benefits. I can't believe VAC had the nerve to publish that chart and say they care for veterans!!!! Now remember those few that do receive these financial benefits lose them at 65...what kind of "golden years" can these veterans have? Shame Minister Fantino...SHAME!
August 18, 2014 4:32 PM
Office of the Veterans Ombudsman
Thank you Mr. Cundell for your comment. You are right in stating that the Earnings Lost Benefit ends at age 65 however both the Permanent Impairment Allowance and its Supplement carry on as long as the qualifying Veteran continues to meet the eligibility criteria. Regards
August 21, 2014 10:51 AM
Date modified: