Armed Forces Declaration by the NATO Heads of State and Government
Ottawa, ON - September 9, 2014
On Thursday, September 4th, 2014, the 28 NATO Heads of State and Government signed an historic Declaration that clearly states their support to their serving Armed Forces members, their Veterans, and their families:
The skill and dedication of the men and women serving in our Armed Forces are essential to collective security. These brave men and women serve our nations, facing danger and risking injury and death in the course of their duty. Their families also play a vital role, coping with relocation and separation, and enduring the consequences of injury and bereavement.

In putting the needs of their nation and their service above all else, the members of the Armed Forces of the nations of the North Atlantic Alliance make immense sacrifices. In return, we reaffirm our support to them and their families, during and after their service, now and in the future.

We value the service and respect the commitment of each nation's Armed Forces personnel and their families. They must know that their sacrifices are not forgotten when they return home, that they will continue to be looked after if they are wounded and when they retire, and that their families will continue to be supported if they are killed. We affirm the importance we collectively attach to this, and commend the efforts being made across the Alliance to maintain and strengthen the bonds between our Armed Forces and the societies from which they come. We will seek to enhance the sharing of best practices and lessons learned in support of our Armed Forces personnel and their families, including on our national approaches to providing medical care to injured personnel and support to families.

As we mark the 65th Anniversary of NATO and two decades of operations on land, sea and air, including in Afghanistan and in the Balkans, we pay tribute and express our profound gratitude on behalf of our nations and peoples to all the brave men and women who stood ready to defend the Alliance and our values as well as to those, including from partner nations, who served in NATO-led operations and missions. We honour these courageous men and women, and their families, and place our trust in those who will follow them in years to come.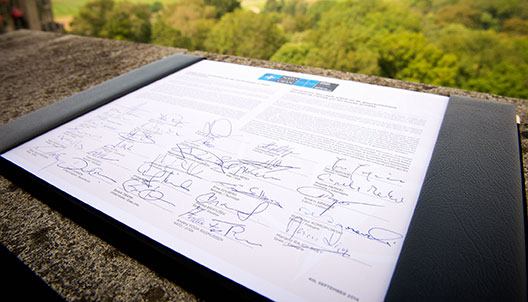 Canada's Prime Minister, the Rt. Hon. Stephen Harper, is to be commended for being one of the signatories of this Declaration. It is an important affirmation by the Government of Canada of its commitment to support its Armed Forces, Veterans and their families. It can also open the door to a more robust and dynamic information exchange on best practices and lessons learned amongst NATO member states.
Canada has much to share about Veterans' programs and services. Despite problems identified in my recent reports on the New Veterans Charter and the Permanent Impairment Allowance, and the House of Commons Standing Committee on Veterans Affairs' report, The New Veterans Charter: Moving Forward, Canada is recognized worldwide as having one of the better approaches to Veterans' affairs. Why? The answer is that generations of Canadians have wanted 'their Veterans' treated with respect and fairness. As a result, Canada is one of only a few countries that has an entire federal department dedicated to supporting Veterans and their families; it is the only country with a Veterans Ombudsman and a Veterans Bill of Rights; it provides free legal support to Veterans through the Bureau of Pension Advocates, to name but a few.
I believe that if the shortcomings in our Veterans' benefits and programs are addressed, Canada will have a system that supports serving members, Veterans and their families that will be second to none in the world. At home, that is what our Veterans need; for our NATO allies, it could be something they want to emulate. Veterans deserve no less.
Guy
Blog Comments
Please add your comment below. Remember if your submission is a complaint about your circumstances please use the Submit a Complaint section.
Important Notice
View Important Notice Details

By participating, you are taking personal responsibility for your comments, your username and any information provided. To protect your own privacy and the privacy of others, comments containing personal information will not be published. "Personal information" means information about an identifiable individual that is recorded in any form. It may include, but is not limited to: name, address, email address, race, ethnic origin, medical and employment history, and identifying numbers. Note as well that the views or opinions expressed about another individual are considered personal information about and belonging to that individual.
Privacy Notice
View Privacy Notice Details

Provision of the information requested on this form is voluntary. It is collected under the authority of the Veterans Ombudsman Order in Council P.C. 2007-530. The information is collected for the purpose of providing an opportunity for the public to provide input on issues identified in the Veterans Ombudsman's blog. Personal information that you provide is protected under the provisions of the Privacy Act.

The Act provides you with the right to access and request correction of your personal information.

Your personal information will be stored in Personal Information Bank number VAC PPU 210.

If you have any questions, contact our Access to Information and Privacy Coordinator.
Comments
Ron Cundell said:
A very well worded document and glad Canada signed it. Now it is up to the Government to live up to what they signed. Use the recommendations from our Veterans Ombudsman or this NATO document is as valid as a grain of salt.
September 10, 2014 4:31 PM
Date modified: