A Strong Canada Remembers
Ottawa, ON – November 3, 2014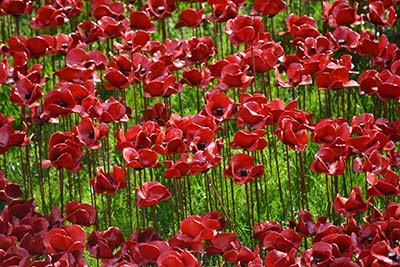 Remembrance Week has begun. It will be a very meaningful one for Canadians following the tragic events of two weeks ago. The attacks on two of our soldiers – Warrant Officer Patrice Vincent and Cpl Nathan Cirillo – and our Parliament, brought home the challenges and realities of global security and made us more conscious that our national security cannot be taken for granted. At the same time, it reaffirmed the strength of character of Canadians to the world.
Canada has been forged by people coming together to face adversity head-on. I believe that the events that we just experienced have strengthened our resolve that the values we hold dear will not be undermined. They also deepened the already strong connection we have with our men and women in uniform, with Veterans and with first responders.
We live in a nation that stands for peace, freedom and tolerance. Canadians stand up for one another and support each other. I saw this clearly demonstrated two weeks ago as I watched Canadians walk into a dangerous situation at the National War Memorial in Ottawa to help and comfort a fatally wounded soldier, who only minutes before had been guarding the Tomb of the Unknown Soldier.
Canadians reached out to each other with compassion. In the National Capital Region, neighbours picked up children from school when their parents were trapped in the lockdown in Ottawa. Canadians from across the country made generous donations to the Stand on Guard Fund to help the families of the fallen soldiers.
When I saw the overwhelming show of solidarity at the National War Memorial in Ottawa, and Veterans and civilians standing guard at cenotaphs across the country, I knew that we would emerge stronger as a country. And, when I watched the solitary acts of remembrance by young people, such as 15-year old army cadet Ceilidh Bond in North Sidney, Nova Scotia, and 13-year old army cadet Jackson Reid in Port Coquitlam, British Columbia, I knew also that our future is in good hands.
I was moved by the many that came out to pay respects to Cpl Cirillo on the Highway of Heroes, as well as by the police and first responders' tribute held in St-Hubert, Quebec. From an editorial cartoon by the Halifax Chronicle Herald's Bruce MacKinnon that captured the unbreakable bond that exists between generations of our men and women in uniform to watching Cpl Cirillo's 5-year old son, Marcus, wearing his father's "Glengarry Bonnet" at his funeral, we were all deeply affected.
I encourage everyone to participate in Remembrance Week this year. It is important that we show our respect and support to not only our fallen Veterans who have gone before, but also to those who walk amongst us today. It is also important that we use Remembrance Week and Remembrance Day this year as a time to honour members of the Canadian Armed Forces, Royal Canadian Mounted Police and the other first responders who are ready to help and protect us at any time.
For my part, in coming weeks and months, I am going to re-double my efforts to ensure that Veterans and their families receive the support they need. Let us strengthen our resolve to ensure that those who stood on guard for us in the past, as well as those who stand on guard for us today, have no reason to ever doubt our commitment to them.
Guy
Blog Comments
Please add your comment below. Remember if your submission is a complaint about your circumstances please use the Submit a Complaint section.
Important Notice
View Important Notice Details

By participating, you are taking personal responsibility for your comments, your username and any information provided. To protect your own privacy and the privacy of others, comments containing personal information will not be published. "Personal information" means information about an identifiable individual that is recorded in any form. It may include, but is not limited to: name, address, email address, race, ethnic origin, medical and employment history, and identifying numbers. Note as well that the views or opinions expressed about another individual are considered personal information about and belonging to that individual.
Privacy Notice
View Privacy Notice Details

Provision of the information requested on this form is voluntary. It is collected under the authority of the Veterans Ombudsman Order in Council P.C. 2007-530. The information is collected for the purpose of providing an opportunity for the public to provide input on issues identified in the Veterans Ombudsman's blog. Personal information that you provide is protected under the provisions of the Privacy Act.

The Act provides you with the right to access and request correction of your personal information.

Your personal information will be stored in Personal Information Bank number VAC PPU 210.

If you have any questions, contact our Access to Information and Privacy Coordinator.
Comments
There are currently no comments for this post.
Date modified: