Honouring our Veterans of the Italian Campaign
Ottawa, ON - December 2, 2014
Last week, I had the honour of joining the Canadian delegation to commemorate the 70th anniversary of the Italian Campaign at events and ceremonies across Italy. It was an unforgettable opportunity to honour the nearly 6,000 Canadians who sacrificed their lives to help liberate Italy in the Second World War. While most of my work, and that of my team, revolves around ensuring Veterans and their families receive the support they require and deserve, I also take every opportunity I can to recognize and commemorate the sacrifices of our service men and women. Events and trips, such as this, provide a great opportunity to come together with Veterans to remember and reflect on their invaluable contributions to the peace and freedom we enjoy today.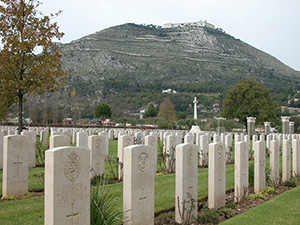 On our first day, we visited the Abbey of Monte Cassino. The ultimate sacrifice made in that very spot by Canadian soldiers so many years ago was brought home to me, as I looked down from the Abbey onto the Cassino War Cemetery and could see that the Canadians fighting in the valley below had been exposed on both sides. The ceremony was especially poignant as it was officiated by Father Green, who had fought in the campaign as a Strathcona. It was under the Veterans' University Program that he was later able to receive his ministry education and become an Anglican priest.
The following day began with a private wreath-laying ceremony for those who fought in and liberated Pontecorvo, an Italian town that was destroyed during the war. We then proceeded to a monastery at Roccasecca to honour Major John Keefer Mahony, who fought and held a bridgehead with his company for five hours under heavy artillery fire in May 1944. For his bravery, Major Mahoney was awarded the Victoria Cross. There, we had the privilege of laying a wreath in his honour.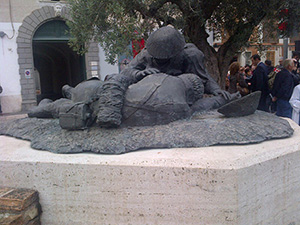 The next day, our stop in Ortona was incredibly moving because it was the site of some of the harshest fighting endured by Canadians. The significance of the visit was further brought to life by the monument where our wreath-laying ceremony was held: the Price of Peace Monument. As I stood surrounded by local townspeople and children, who were there to pay their respects, I was reminded of the enormous price paid not only by those who we honoured here, but by all of Canada's soldiers of past, present and future service. The price of peace for many was unimaginably high and we owe all of our appreciation for the freedom we enjoy today to those who so bravely fought and continue to fight in our honour.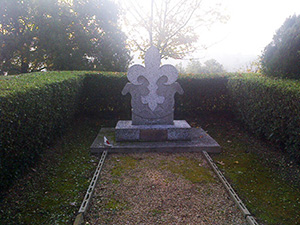 That evening, we proceeded to the Ortona Museum where I was moved to witness many of the Veterans in our delegation reminisce as they recognized old comrades and places in photos of the town from 1943. With those fond and difficult memories in mind, we participated in a candlelight ceremony of remembrance at the Moro River Canadian War Cemetery where 1,375 of our brave men and women are buried. Here, I was witness to touching moments as the Veterans passed their lit candles to youth from the Canadian College of Italy who had come to pay their respects. Few people were aware that at least four RCMP officers, who fought with the Provost Corps, are also buried there. As the Ombudsman for both Canadian Armed Forces and RCMP Veterans, this was an important moment for me to recognize the extreme sacrifice of all our men and women in uniform.
The next day, we travelled to Casa Berardi, where we had the opportunity to honour Captain Paul Triquet of Cabano, Quebec, a Victoria Cross recipient, at a private wreath-laying ceremony. In December 1943, Captain Triquet and his men courageously fought to turn the enemy line to open the way to Ortona and capture the city. It is for his determined leadership that Captain Triquet received the Victoria Cross. I am thankful to have had the opportunity to honour him.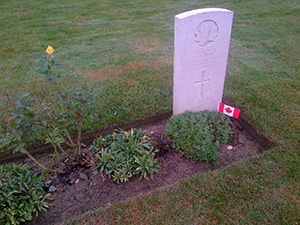 We began the final day of our tour with a ceremony of Remembrance at Villanova Canadian War Cemetery. It was the 5th Canadian Armoured Division who originally selected this particular site as a cemetery, and they represent many of the 206 graves present, with one being an unknown soldier. The moving ceremony was even more so, as it was at this point that we said goodbye to our Italian hosts who so graciously had accompanied us throughout our entire journey.
I am honoured to have been a part of the delegation commemorating the 70th anniversary of the Italian Campaign and thank all those who helped to organize the many events and ceremonies that made up an unforgettable trip.
Guy
Blog Comments
Please add your comment below. Remember if your submission is a complaint about your circumstances please use the Submit a Complaint section.
Important Notice
View Important Notice Details

By participating, you are taking personal responsibility for your comments, your username and any information provided. To protect your own privacy and the privacy of others, comments containing personal information will not be published. "Personal information" means information about an identifiable individual that is recorded in any form. It may include, but is not limited to: name, address, email address, race, ethnic origin, medical and employment history, and identifying numbers. Note as well that the views or opinions expressed about another individual are considered personal information about and belonging to that individual.
Privacy Notice
View Privacy Notice Details

Provision of the information requested on this form is voluntary. It is collected under the authority of the Veterans Ombudsman Order in Council P.C. 2007-530. The information is collected for the purpose of providing an opportunity for the public to provide input on issues identified in the Veterans Ombudsman's blog. Personal information that you provide is protected under the provisions of the Privacy Act.

The Act provides you with the right to access and request correction of your personal information.

Your personal information will be stored in Personal Information Bank number VAC PPU 210.

If you have any questions, contact our Access to Information and Privacy Coordinator.
Comments
There are currently no comments for this post.
Date modified: