Are Recent Government Actions Narrowing the Gap for Veterans?
Ottawa, ON - May 25, 2015
Status Update on OVO Priorities & ACVA Recommendations
View Chart - Status of OVO Priorities and Government Actions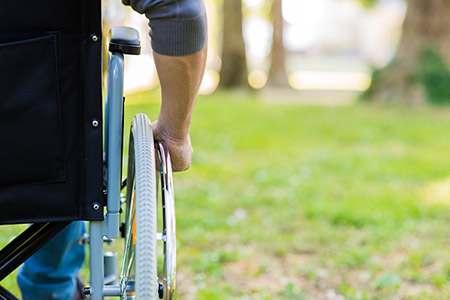 As most of you are aware, the Government has made several announcements in the last few months on the New Veterans Charter. Many of you have asked questions about the particulars of the various benefits and how they address the concerns of the Veterans' community.
In some instances, it has been difficult to get detailed information about some of the individual benefits as the draft regulations and policy have not yet been published. As a result, at this time we can only speculate on the impact of some of the benefits. However, I do believe that overall the Government's actions are positive for the Veterans' community.
This does not mean that all gaps have been addressed. However, if these new initiatives are looked at as important steps in a commitment to continuously improve and adapt benefits to the evolving needs of Veterans, then this is a very positive indicator for the future.
To ensure that we are all aware of what has been announced and how those announcements address my Office's priorities, as well as the recommendations from the House of Commons Standing Committee on Veterans Affairs (ACVA), we have prepared a chart that tracks each announcement.
We have also done some initial analysis that will give you my perspective of whether the Government's actions meet the intent of the OVO's and/or ACVA's recommendations. As much as possible, we have provided the links to the source documents.
The chart will be updated as we get more information and we will make you aware of these changes. I would appreciate your feedback on the chart and how it can be improved.
Although there is still much to be done, I believe that things are moving in the right direction. It's up to all of us to keep up the momentum.
Guy Parent
Veterans Ombudsman
Blog Comments
Please add your comment below. Remember if your submission is a complaint about your circumstances please use the Submit a Complaint section.
Important Notice
View Important Notice Details

By participating, you are taking personal responsibility for your comments, your username and any information provided. To protect your own privacy and the privacy of others, comments containing personal information will not be published. "Personal information" means information about an identifiable individual that is recorded in any form. It may include, but is not limited to: name, address, email address, race, ethnic origin, medical and employment history, and identifying numbers. Note as well that the views or opinions expressed about another individual are considered personal information about and belonging to that individual.
Privacy Notice
View Privacy Notice Details

Provision of the information requested on this form is voluntary. It is collected under the authority of the Veterans Ombudsman Order in Council P.C. 2007-530. The information is collected for the purpose of providing an opportunity for the public to provide input on issues identified in the Veterans Ombudsman's blog. Personal information that you provide is protected under the provisions of the Privacy Act.

The Act provides you with the right to access and request correction of your personal information.

Your personal information will be stored in Personal Information Bank number VAC PPU 210.

If you have any questions, contact our Access to Information and Privacy Coordinator.
Comments
Hermans said:
Good Day Sir I have a couple of questions/comments to ask and/or state. First I wish to thank you for your hard work and effort to in aiding the Veterans/Military personnel, most importantly knowingly know they need your help and guidance. The first question, why the silence after the announcement of the new benefits 1 Jul 2015? Where is the action/implantation plan, why was this not released to at least the Case Managers (CM) on 1 Jul 15? At least 3 Case Managers (CM) does not know any more than us Veterans of the action/implantation plan. One CM did state she is going to attend some training/information session in the coming weeks. This information should have been push to the Veterans or as earlier stated to the Case Managers. The many Veterans to whom I have spoken too in the last 13 days are very skeptical, and they believe the announcements are just smoke and mirrors to silence the Veteran community prior to the elections this Fall. I live in a very large Veteran/Military area and the talk of the town is the questions I have posed. As a last point, silence and denials is what the Veterans are used to especially following an announcement or claim and the Minister announcement fits with silence.
July 13, 2015 8:17 PM
Concerned said:
Looking at the items still in progress VAC is promoting its planned hiring as a fix to front line support it will take some time before there are tangible benefits to Veterans as a result of this. You can have all the staff you want but if training is inadequate there will no benefit to veterans or there families. It should also be noted that nothing in these plans addresses relationship building with various Colleges of Physicians as one of the primary needs of seriously disabled releasing CAF members is the inability to find a family physician. For those that do the paperwork required by VAC and SISIP is often a show stopper this comes as a big shock to releasing members. Will VAC and DND work together to address?
June 29, 2015 12:51 PM
Office of the Veterans Ombudsman
Thank you very much for your comments regarding OVO priorities and ACVA recommendations. You will note that the chart provided in this posting identifies ACVA recommendation #11 as VAC establishing a more rigorous training program for case managers. At this time, we have no information other than the update provided by VAC in May that advised a staff development program was currently in progress. We are in contact with the Department for specific information around training and will update this chart accordingly when the information is received.
Further, the OVO is currently involved in a joint transition project with the National Defence and Canadian Forces Ombudsman. The team has been looking at the process of transition from the time a member of the Canadian Armed Forces receives a release message to the integration of the Veteran within Veterans Affairs Canada. Your point concerning a releasing member being unable to find a family physician is extremely timely and it is a concern that we have heard during our outreach as well. It has been forwarded to the project team for inclusion in their analysis.
July 14, 2015 10:31 AM
Scott said:
I find it very hard to tell if the Gov. of the day is doing everything they have said they would do. It is hard to let go of the previous problems encountered and give the new Minister the benefit out of the doubt but then again that is what we are asking VAC to do for us as a matter of right. However; from what I see and understand this new Minister is a real decent guy and for the first time in many years we have someone that really cares so lets see? One big problem is there has been little or nothing been done to assist those of us that were unfairly given the lowest grade on the PIA as were 90% of the other VETS. There are people like myself over 100% disabled with nothing left to fight back and none of us have had any calls from anyone saying they were looking into what happened to those that were given the lowest grade but the highest disabilities.I just have nothing left to fight with. How are we expected to fight back when I am confined to bed 3-5 days a week? . With respect to the widower pension the current Gov. will give my wife after I pass away...my question is simple the Gov. adds both the disability pension and the amount of disability from my award and when they reach 100% total there is no more award .or pension payable. Well ok but to be fare should we the Veteran not be allowed to add both amounts (award and pension} so that when they reach the total amount (you know like the Gov.. does),reaches 48% my wife will get my full pension not half of the amount because my old service pension is only 40% and not 48% which I cant use because I can't add my disability pension (40%) and my disability award of (52%) which equals112%. So why is it right for the Gov. to cheat my wife out of my full disability pension when I pass on? Can anyone please help me with this I just don't get it? Thanks Guy and perhaps this might be something for you to find out about because no one has an answer.
June 17, 2015 12:54 AM
Office of the Veterans Ombudsman
Thank you Mr. Scott for your comment and insights. In regards to your questions, please call us directly at 1-877-330-4343 so we can learn more about your situation and are better able to assist.
June 17, 2015 4:05 PM
Concerned said:
Of all the recommendations planned including promises of more economic support all Veterans should be concerned that unless there is appropriate levels of staff employed in the Department access to the benefits will be delayed. Of significant concern to me is that there is no transparency on the plan to train new case managers and without progress in this VAC case managers will continue to function with an insurance mentality. There are significant inconsistencies in support across the country stemming from experience and qualification and training. I do not believe that the "wellness" or psychosocial model of care promoted by VAC provides the best case management to address complex needs of seriously ill veterans. Further the ability to provide support varies across the country due to differences in provincial access to care, Veterans are not a priority for health care this too is a significant barrier. I remain concerned.
June 1, 2015 11:33 AM
John Beeching said:
One of the basic items I have seen in the Charter is the "lump sum payment". I am a veteran and lately we began the lump sum payment for some services. When the company increased their pay to staff by fifty cents we asked if it would appear in the next lump sum payment. The answer was no. It seems lip sum payments are cast in stone. What will happen to veterans who received a lump sum payment on demobilization and they develop a medical problem in later years that is war related?
May 31, 2015 7:50 PM
Office of the Veterans Ombudsman
Thank you for your message Mr. Beeching. We encourage you to contact us directly at 1-877-330-4343 so we can learn more about your case and do our best to assist.
June 5, 2015 11:32 AM
Victime parmi tant d'autres - Sonia said:
UN SEUL GROUPE DE VÉTÉRANS ? Pour répondre à votre question, M. Parent, c'est NON. Voici pourquoi: Au moment où j'écris ces lignes, le Gouvernement fait des promesses, mais il n'est même pas capable de « Garantir », à l'intérieur de sa Loi, que tous les anciens combattants admissibles pourront obtenir les indemnités à la date de la demande. D'ailleurs, après plusieurs cas dénoncés, des recommandations faites du temps de M. Pat Stogran ou par vous, afin de PROTÉGER les anciens combattants de leur droit, ne sont pas à l'étude. Pourtant, ces recommandations n'auraient aucun coût direct sur le budget, SAUF dans les cas où le Ministère des anciens combattants ne respecterait pas leur devoir. Cela en dit long sur la bonne foi du Gouvernement. 10 ans devant les Tribunaux, je sais de quoi je parle ! Ne soyez pas naïf ou naïve !
May 29, 2015 9:51 AM
Date modified: