Canada hosting the 2017 Invictus Games!
Ottawa, ON - May 24, 2016
The Invictus Games bring together ill and injured military and Veterans from across the world to harness the power of sport in rehabilitation, while generating better public understanding of the difficulties faced by those who become ill or get injured as a result of their service.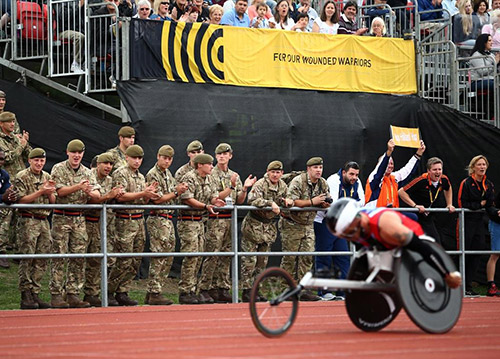 The meaning of the word "Invictus" is "unconquered", and I agree that it perfectly describes the spirit of our servicemen and women and Veterans. Despite the physical and psychological effects of their service, they continue to forge ahead.
The 2016 Invictus Games were held in Orlando, Florida, and welcomed over 500 competitors from 15 countries. Our Canadian competitors should be proud; earning 10 gold medals, 8 silvers and 4 bronzes. They truly exemplify the meaning of the games with their unconquered spirit and inspirational strength.
Next year, we will be privileged to host the 2017 Invictus Games in Toronto from September 26 - 30, and welcome more than 600 competitors from 16 countries in 12 sports. Coinciding with the 150th anniversary of our Confederation, Canada was selected to host in 2017 as a unique opportunity for Canadians to commemorate and honour our ill and injured servicemen and women, Veterans and their families.
I had the opportunity to attend the Launch Ceremony for the 2017 Games in Toronto earlier this month, and it was great to have the chance to celebrate these fierce competitors right here at home. I look forward to our opportunity to host the Games and see our Canadian military and Veteran athletes compete on home turf next year!
To learn more about the 2017 Invictus Games or find out how you can get involved, visit http://www.invictusgames2017.com/2017-games/. I encourage you to join me in cheering on our competitors!
Guy
Photo: The Invictus Games Foundation. http://www.invictusgames2017.com/photo-gallery/
Blog Comments
Please add your comment below. Remember if your submission is a complaint about your circumstances please use the Submit a Complaint section.
Important Notice
View Important Notice Details

By participating, you are taking personal responsibility for your comments, your username and any information provided. To protect your own privacy and the privacy of others, comments containing personal information will not be published. "Personal information" means information about an identifiable individual that is recorded in any form. It may include, but is not limited to: name, address, email address, race, ethnic origin, medical and employment history, and identifying numbers. Note as well that the views or opinions expressed about another individual are considered personal information about and belonging to that individual.
Privacy Notice
View Privacy Notice Details

Provision of the information requested on this form is voluntary. It is collected under the authority of the Veterans Ombudsman Order in Council P.C. 2007-530. The information is collected for the purpose of providing an opportunity for the public to provide input on issues identified in the Veterans Ombudsman's blog. Personal information that you provide is protected under the provisions of the Privacy Act.

The Act provides you with the right to access and request correction of your personal information.

Your personal information will be stored in Personal Information Bank number VAC PPU 210.

If you have any questions, contact our Access to Information and Privacy Coordinator.
Comments
There are currently no comments for this post.
Date modified: