Have You Successfully Transitioned to Civilian Life?
Ottawa, ON - October 27, 2016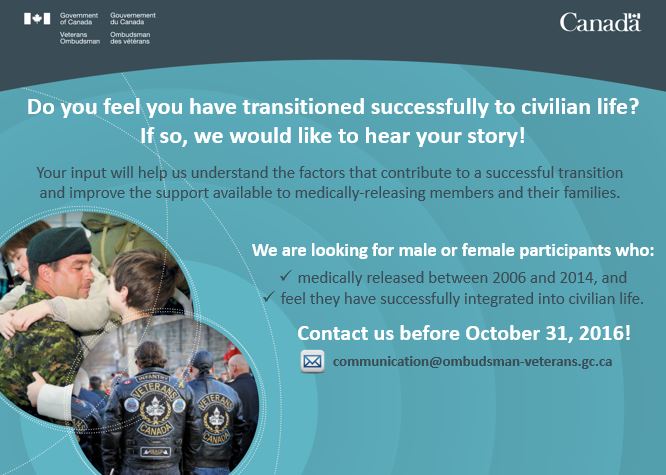 My team is getting ready to conduct a qualitative research study, and we would like to hear your story!
What's your story?
If you medically released and feel you have successfully transitioned into civilian life, we want to hear from you! Your transition may have been difficult or easy, taken years or no time at all, but if you now feel that you are well-integrated into civilian life, we want to learn how you got there.
We are looking for male and female members who medically released between 2006 and 2014, were a Regular or Reserve Force member, and represent varying years of service. If you would like more information on our study, click here. If you would like to participate in this study, please e-mail us directly by October 31, 2016, at communication@ombudsman-veterans.gc.ca. Our researchers will be in touch within three working days. Your participation is completely voluntary, and if you do participate, please rest assured that your identity will remain confidential.
Our Goal
Your input will help us define which factors help to contribute to a successful transition and integration into civilian life for medically-released members of the Canadian Armed Forces (Regular and Reserve). A common understanding of these factors will help to ensure that the policies, programs and services are in place to support members as they transition and that we monitor and measure the effectiveness of support on a continuous basis.
Please note that while all respondents will be contacted, not all respondents will be selected for this study.
Thank you in advance for your participation.
Guy Parent
Veterans Ombudsman
Comments
There are currently no comments for this post.